Clean Budget News & Resources (FY 2021)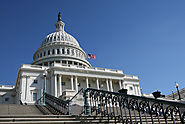 The Clean Budget Coalition, an alliance of labor, scientific, consumer, research, good government, faith, civil rights, community, health, environmental, and public interest groups, writes you to urge FY21 appropriations bills that are free from policy riders that harm the public. No appropriations titles, package of bills, or continuing resolutions (should that be deemed the appropriate path to continue funding the government), should move forward if they contain poison pill policy riders that go against the public interest. Unfortunately, such poison pill riders have existed as favors to corporate and special interests in previous appropriations cycles and therefore a set of "legacy poison pills," must be removed from the FY21 appropriations bills. We ask that you take that stance as Congress processes the FY21 appropriations bills—keeping out new policy riders that would harm the public as well as removing those that have become embedded.
Access resources on FY 2020, FY 2019, FY 2018, FY 2017 (Trump), FY 2017 (Obama) and FY 2016 budget cycle riders.