Clean Budget News & Resources FY 2019
This resource bank contains FY 2019 budget cycle news articles, op-eds, editorials, blogs, letters to the editor, press releases, fact sheets, sign-on letters and other resources related to rescissions and riders. Please use the controls below to search, sort, filter and share.
Apr 20, 2018 - eenews.net -

0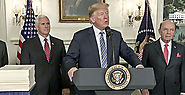 An emerging proposal by the White House and some House conservatives to potentially claw back billions of dollars in new federal agency spending is facing resistance within Republican ranks. Several GOP senators signaled deep skepticism about the cuts, saying the move would in effect scrap a hard-won budget deal and doom the prospect of any future bipartisan spending agreements.
Apr 19, 2018 - thehill.com -

2
In a resounding rebuke of President Trump's budget, members of Congress from both sides of the aisle came together last month to pass an omnibus spending bill that funds core programs that protect the health and wellbeing of families across the country. So as Congress gets back to work on budget and appropriations issues, we again encourage our representatives to reject any effort that harms the health of our kids and future generations by slashing investments or sneaking in poison pill policy riders. That's the surest path to passing a 2019 spending bill and showing constituents that Congress can tackle its most basic governing responsibilities.
Apr 19, 2018 - weeklystandard.com -

1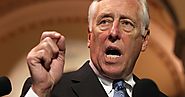 House Democratic Whip Steny Hoyer said on Tuesday morning that recent efforts on the part of the White House and Republican lawmakers to retroactively cut already-authorized spending would undermine future bipartisan negotiations.
Apr 19, 2018 - bloomberg.com -

1
Senate Majority Leader Mitch McConnell said Tuesday he opposes a White House attempt to cancel billions of dollars in federal spending from last month's 2018 appropriations bill.
Apr 19, 2018 - thehill.com -

2
Senate Majority Leader Mitch McConnell (R-Ky.) on Tuesday shot down President Trump's call for Congress to pass a rescissions package that would cut nondefense spending included in the $1.3 trillion omnibus spending package passed in March.
Apr 19, 2018 - washingtonpost.com -

1
Two Republican "cardinals" — powerful lawmakers who chair Senate Appropriations subcommittees — said Monday that they were perplexed by the talk of a rescission bill just weeks after the passage of the $1.3 trillion omnibus.
Apr 19, 2018 - nymag.com -

0
Trump's trying to placate conservatives upset with the spending bill. But rescission is probably not going to happen, because there's no way it could get through the Senate. Predictably, Republican appropriators, who crafted the omnibus through tough negotiations stretching back to last summer, are not real happy about the idea of their handiwork being unraveled so quickly.
Apr 19, 2018 - rollcall.com -

0
Senate Republicans on Monday threw cold water on a forthcoming proposal from the White House that will ask Congress to cut previously enacted spending, including from the $1.3 trillion spending bill that President Donald Trump signed last month. Republican lawmakers are concerned about how moving forward with a "rescissions" package would affect future bipartisan negotiations over spending bills. If Republicans go back on the promises they made to their Democratic colleagues while negotiating the fiscal 2018 spending law, that could erode trust between the parties and make negotiating the fiscal 2019 spending bills more difficult.
Access resources on FY 2018, FY 2017 (Trump), FY 2017 (Obama) and FY 2016 budget cycle riders.