Congress Must Pass a Clean Budget With No Poison Pill Riders
More Than 260 Organizations Are Calling for Clean Spending Bills With No Poison Pills
Every year, Congress must pass a series of budget and appropriations bills to fund the services and safeguards that protect our families and communities. In recent years, Republican lawmakers have threatened to attach hundreds of harmful policy riders to this legislation that would weaken, repeal or block essential public protections.
Most of these measures are special favors for big corporations and ideological extremists that have nothing to do with funding our government and are too controversial to become law on their own merits. As such, these measures have no place in budget and spending legislation.
More than 260 organizations have joined together to form the Clean Budget Coalition. We're calling on Congress and the White House to pass a clean budget with no harmful riders, one that funds our communities and protects our families. FY 2018 funding expires on Sept. 30, 2018. Follow us on Twitter @regsrock.
Jun 21, 2018 - thehill.com -

0
The Senate voted Thursday to block a measure by Sen. Mike Lee (R-Utah) that would have repealed former President Barack Obama's landmark water pollution rule. The amendment would have prohibited funding in a major spending bill from being used by the Army Corps of Engineers to enforce the Clean Water Rule, also known as Waters of the United States. The rule was developed alongside the Environmental Protection Agency. Multiple federal courts have put it on hold, and the Trump administration is working to repeal it. Senators voted 62 to 34 to table the amendment, effectively blocking it. Republicans have consistently opposed the water rule, but 20 GOP senators voted with most Democrats block Lee's amendment, since it would break a deal that Senate Appropriations Committee leaders made to avoid controversial policy provisions in spending bills.
Jun 21, 2018 - alaskajournal.com -

0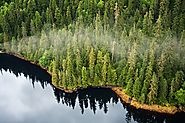 Sen. Lisa Murkowski is touting her Interior and environment budget bill as much for the process behind it as what's in it. Alaska's senior senator emphasized in a June 14 call with reporters that the $35.8 billion fiscal year 2019 discretionary spending bill passed unanimously out of the Senate Appropriations Committee earlier that day, which she said is a sign that Congress might finally be returning to regular order when it comes to funding the government. "We had to stand down on some of the controversial provisions that have been included in years past that have been the poison pills," Murkowski said further.
Jun 21, 2018 - cnn.com -

0
The Senate rejected a key White House priority Wednesday when it defeated a bill to claw back about $15 billion in previously appropriated government funding. A procedural vote on the rescission package failed on 48-50 vote, an embarrassing defeat for Senate GOP leaders and the Trump administration. The vote on the measure, which already passed the House, was held open for 90 minutes while GOP leaders worked to persuade all their members to back it. But as Capitol officials readied for Vice President Mike Pence to arrive to break a possible tie vote, Sen. Richard Burr, R-North Carolina, unexpectedly emerged from the Republican cloakroom to vote against the bill. His opposition, coupled with a "no" vote from Sen. Susan Collins, the moderate Republican from Maine, sunk the bill.
Jun 20, 2018 - nrdc.org -

0
The Appropriations Committee wisely avoided controversy on the Energy and Water Appropriations Act by rejecting the inclusion of harmful riders from the House bill and rejecting damaging cuts proposed by the administration. However, Sec. 304 of the bill is an invitation for contentiousness. This section would unwisely alter our nation's nuclear waste policies to prioritize the misguided aim of getting an interim spent fuel storage facility up and running as soon as possible at the expense of durable, lasting solutions like publicly accepted and scientifically defensible repository disposal. This provision has no place in an appropriations bill.
Jun 19, 2018 - thehill.com -

0
President Trump's plan to claw back billions of dollars in previously approved government spending is facing a likely death in the Senate as lawmakers eye a vote this week. Senators have until Friday if they want to pass the package to claw back roughly $15 billion in spending with only a simple majority that allows them to avoid a Democratic filibuster. The measure narrowly cleared the House last week.