Congress Must Pass a Clean Budget With No Poison Pills or Legacy Riders
Every year, Congress must pass a series of budget and spending bills to fund the services and safeguards that protect our families and communities. In recent years, lawmakers have threatened to attach harmful policy riders to this legislation that would weaken, repeal or block essential public protections. Most of these measures are special favors for big corporations and ideological extremists that have nothing to do with funding our government and could not become law on their own merits. In past years, some of them managed to sneak through and are then held over from previous budget cycles as "legacy riders." Dozens of organizations have joined together to form the Clean Budget Coalition in opposition to these measures. We're calling on lawmakers to pass clean spending bills ahead of the September 30, 2021 funding deadline.
Clean Budget News & Resources (FY 2022)
Apr 26, 2021 - thehill.com -

0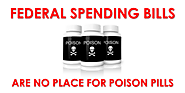 Poison pill riders took off during the Obama administration, as Republican lawmakers sought to block Democratic-led agencies from developing a broad range of new public interest regulations. Caught in the crosshairs were worker health and safety protections, controls on greenhouse gas (GHG) pollution, measures to promote women's access to family planning services and other crucial safeguards. If enacted, these riders would have made it illegal for agencies to spend a single penny on implementing the targeted regulations.