Congress Must Pass a Clean Budget With No Poison Pill Riders
More Than 265 Organizations Are Calling for Clean Spending Bills With No Poison Pills
Every year, Congress must pass a series of budget and spending bills to fund the services and safeguards that protect our families and communities. In recent years, lawmakers have threatened to attach hundreds of harmful policy riders to this legislation that would weaken, repeal or block essential public protections. Most of these measures are special favors for big corporations and ideological extremists that have nothing to do with funding our government and could not become law on their own merits. More than 265 organizations have joined together to form the Clean Budget Coalition in opposition to these poison pills. We're calling on federal lawmakers to pass a clean budget with no harmful riders. FY 2018 funding expires on Dec. 21, 2018. Follow us @regsrock.
Dec 10, 2018 - rollcall.com -

0
Congressional aides on both sides of the aisle say they don't see how the appropriations impasse ends without a partial government shutdown just in time for Christmas Eve. President Donald Trump signed a continuing resolution into law Friday that would change the expiration date of the stopgap measure enacted before the midterm elections to Dec. 21. But he wasted little time in taking aim at Democratic leaders for "playing political games" on border security funding, even as he prepares to sit down with House Minority Leader Nancy Pelosi of California and Senate Minority Leader Charles E. Schumer of New York in the Oval Office Tuesday. While many lawmakers are publicly expressing confidence a shutdown will be avoided, aides speaking on condition of anonymity said there is a widespread fear that the talks will collapse and lead to a shutdown. At the same time, there appears to be little appetite for a shutdown among Democrats and Republicans in Congress, especially days before Christmas and weeks before Democrats take control of the House. Republicans have taken the blame for shutdowns in 1995-1996, and again in 2013.
Dec 07, 2018 - thehill.com -

0
The long awaited end of year budget battle has arrived, and as usual it is coming down to the wire. You may have heard that the fight is over funding for the border wall called for by President Trump. But there is another key set of sticking points standing in the way of a bipartisan deal. They are known as poison pill riders, which are harmful and controversial measures that have nothing to do with funding our government. Some lawmakers try to sneak poison pill riders into budget and appropriations bills, thus undemocratically bypassing the normal legislative process.
Dec 06, 2018 - huffingtonpost.com -

0
The U.S. Congress on Thursday approved a two-week stopgap spending bill to avert a government shutdown, setting up a potential showdown over President Donald Trump's proposed border wall later this month. Without action by Congress, funding for several federal agencies, including the Department of Agriculture, State Department and Department of Homeland Security, had been set to expire this week. The stopgap bill extends funding through Dec. 21.
Dec 04, 2018 - washingtonpost.com -

0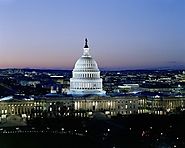 Congressional leaders and White House officials agreed Monday to extend a government funding deadline by two weeks, until Dec. 21, setting up the possibility of a shutdown showdown just ahead of Christmas. The decision, confirmed by aides involved in the talks, was made because of the observances surrounding the death of former president George H.W. Bush. The former president will lie in state in the Capitol Rotunda ahead of a service at Washington National Cathedral on Wednesday. The House has canceled all votes for this week. The current deadline is midnight on Friday, Dec. 7. The House and Senate are expected to approve the new deadline at some point this week. That could be done in the House by unanimous consent, without lawmakers present to vote.
Dec 03, 2018 - eenews.net -

1
Congress is expected to temporarily put off a funding fight this week that could have forced agencies, including EPA and the Interior Department, to shutter as the nation mourns the late President George H.W. Bush. Congressional leaders are hoping to put off a partial government shutdown ahead of Friday's deadline by passing a one- to two-week continuing resolution. With almost a quarter of the House not coming back in January, lawmakers are eager to wrap up work as soon as possible. Neither party wants to push the fight into next year. Lawmakers are eyeing an omnibus that would contain all seven of the unfinished fiscal 2019 spending measures, including Interior-EPA, Commerce-Justice-Science, Homeland Security, Transportation-HUD and State-Foreign Operations. Several spending bills, including for Energy-Water, were signed into law before Election Day. But those negotiations have been hobbled by the White House's insistence that the bill contain $5 billion in funding for border wall security sought by Trump. Appropriators have said the other spending bills are ready to move, devoid of most controversial riders, once the border funding fight is resolved.