Congress Must Pass a Clean Budget With No Poison Pill Riders
More Than 260 Organizations Are Calling for Clean Spending Bills With No Poison Pills
Every year, Congress must pass a series of budget and spending bills to fund the services and safeguards that protect our families and communities. In recent years, lawmakers have threatened to attach hundreds of harmful policy riders to this legislation that would weaken, repeal or block essential public protections. Most of these measures are special favors for big corporations and ideological extremists that have nothing to do with funding our government and could not become law on their own merits. More than 260 organizations have joined together to form the Clean Budget Coalition in opposition to these poison pills. We're calling on federal lawmakers to pass a clean budget with no harmful riders. FY 2018 funding expires on Sept. 30, 2018. Follow us @regsrock.
Sep 19, 2018 - washingtonpost.com -

0
Why is the process moving more swiftly this year? Three reasons. First, in February, Congress and the president reached a two-year budget deal that increased spending limits for defense and nondefense programs. Agreeing to the overall size of the federal pie early in the year gave the parties more time to negotiate how to divide it up. Second, the budget deal lifted caps imposed under the 2011 budget law by $85 billion and $68 billion, respectively, for defense and nondefense spending. A bigger pie made it easier to compromise. Third, Republican control of the House, Senate, and White House has generated new pressures on Republicans to reach deals with Democrats. At risk of losing their chamber majorities, Republicans want to deliver legislative wins before the November elections. Both parties' leaders want to avoid shutting down any part of the government before Election Day. Convincing colleagues on both sides of the aisle to forgo attaching controversial policy riders to the spending bills was key. President Trump remains a wild card. He has threatened several times to veto bills unless Congress agrees to spend billions on a wall along the southwest border. But Democrats and even some Republicans oppose spending as much as Trump has asked for. Republicans have dodged the problem for now. They combined the defense bill — one of their major priorities — with the health and labor bill, which Democrats value, into a single legislative package. Then they added a stopgap measure to cover the remaining federal agencies, postponing a full fight about border wall funding until after the midterms. That means Trump cannot get funding for the border wall unless he is willing to veto the entire package, forcing the government to shut down. It is a risk Republicans bet the president will not take.
Sep 19, 2018 - wcjb.com -

0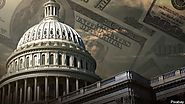 The Senate on Tuesday approved a wide-ranging, $854 billion bill that funds the military and a host of civilian agencies for the next year and provides a short-term fix to keep the government open through early December. The Senate had not passed a spending bill covering Labor or Health in more than a decade before approving one last month. Vermont Sen. Patrick Leahy, the top Democrat on the Senate Appropriations panel, said he was pleased that the compromise bill eliminates contentious policy riders that Leahy and other lawmakers call "poison pills." Such riders frequently lead to a spending bill's defeat even as lawmakers from both parties agree on a vast majority of spending priorities.
Sep 19, 2018 - consumeraffairs.com -

0
"This is the most significant step we have taken yet,"said Sen. Richard Shelby (R-Ala.), Chairman of the Senate Appropriations Committee. "For the first time in a decade, we are sending a defense spending bill to the President's desk on time." Shelby said passage of the bill marked a milestone of sorts -- both parties actually had to work together and make compromises to advance the legislation. He said both parties fought hard for vital national needs. "This conference report contains critical funding for defense and domestic priorities," Shelby said. "It accelerates the rebuilding of America's military and provides our men and women in uniform with the largest pay increase in nearly a decade. It also increases NIH's budget by $2 billion and provides critical resources to combat the opioid epidemic. And, it contains no poison pill riders." There are still two other spending packages that need Congressional approval before October 1 to avoid a government shutdown. If the other two packages are ratified by both chambers and signed by President Trump, they would add up to nearly 90 percent of the federal government's annual spending.
Sep 19, 2018 - bna.com -

0
The minibus removes "poison pill" policy riders that were in the House version, appropriators have said. The GOP provisions essentially would have thwarted passage in the Senate, where the support of at least nine Democrats is required to avoid a filibuster. The scrapped riders include a provision that would have reversed a controversial Obama-era NLRB decision expanding joint employer liability for businesses in staffing, franchise, and other contractual relationships.
Sep 19, 2018 - thehill.com -

0
Congressional leadership strategically bundled funding for the labor bill, a major Democratic priority, with funding for the Pentagon, a major Republican priority. For conservatives, voting against the package would mean voting against an increase in defense spending and a raise for the troops. "If they want to vote against defense, that's up to them. I don't quarrel with anybody's vote. There's going to be sufficient votes to pass the legislation," said Rep. Tom Cole (R-Oklahoma), an appropriator. Cole also praised the bipartisan commitment to keep controversial policy riders out of appropriations altogether in order to move the bills forward. "That doesn't mean those fights are over, it just means you're not going to be able to win them in an appropriations bill," he said.