Congress Must Pass a Clean Budget With No Harmful Riders
196 Groups Have Joined the Call
Every year, Congress must pass a series of appropriations bills to fund the services and safeguards that protect American families and communities. This year, President Donald Trump and congressional Republicans are proposing a budget rigged for millionaires, billionaires and big corporations.
It's bad enough that Republican lawmakers are proposing deep and painful funding cuts to the agencies that protect our health and safety, our workplaces and wallets, as well as our environment and our economy. But they're also threatening to attach hundreds of harmful policy riders to the budget that would weaken, repeal or block essential public protections. The inclusion of poison pill riders risks a costly and disruptive government shutdown when funding expires on Dec. 22.
Nearly 200 organizations have joined together to form the Clean Budget Coalition. We're calling on Congress and the White House to pass a clean budget with no harmful riders, one that funds our communities and protects our families. Follow the Clean Budget Coalition on Twitter @regsrock.
Clean Budget News & Resources (FY 2018)
Dec 12, 2017 - eenews.net -

0
Congress is in the midst of frenetic negotiations to reach a budget deal before leaving later this month for the holidays. Democratic leaders have signaled their caucus would be united in opposing a deal that does not offer parity for defense and nondefense spending or if extraneous policy riders are tacked on by the GOP. Republicans hold a more comfortable 23-seat margin in the House, but the three dozen members of the hard-right Freedom Caucus have resisted domestic spending increases. If they hold firm, leaders will need to rely on House Democrats, whose price would likely be equal defense and nondefense spending increases for fiscal 2018 and a robust hurricane/wildfire package.
Dec 08, 2017 - abqjournal.com -

1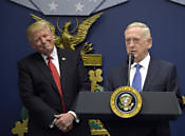 Now, Congress is working on the omnibus spending bill for 2018, which may have environmental appropriations close to those from last year. Then again, the bill could be changed to pay for expected cuts in the so-called tax reform bill, which has everyone on Capitol Hill struggling to reconcile differences in the House and Senate bills. Congress must also pass another temporary "continuing resolution" to keep the government operating through the new year. Whether environmental budgets will take big hits in the eventual 2018 omnibus bill is anybody's guess. At the same time, environmentally damaging riders cling to the budget, as well as to the administration's new tax plan, with provisions that would exempt the federal livestock grazing program from environmental review, would prevent the BLM from fully collecting oil royalties, and thwart efforts to control methane pollution from federal lands oil drilling.
Dec 08, 2017 - pfaw.org -

1
Lifting the caps equitably must be a top priority for Congress, so that it can proceed as quickly as possible to enact an omnibus spending bill for the rest of FY 2018. An adequately funded omnibus will allow investments that will provide for economic growth and opportunity, and should not be undermined by divisive poison pill riders.
Dec 08, 2017 - rawstory.com -

1
Last week Senate Republicans passed a tax bill that hands massive tax breaks to corporations and the rich at the expense of low-income and middle-class Americans. Waiting in the wings on Capitol Hill are proposed GOP spending bills that would help the wealthy winners in this year's epic tax rewrite lock in their power. Republicans have hidden "policy riders" in the fine print of those bills that will further open the floodgates to big money in politics — while making darn sure we can't find out where it's coming from. That's a surefire way to guarantee that the special interests and billionaires bankrolling federal elections get to increase their influence in Washington without any annoying scrutiny from voters.